About us
    about-Safety Gloves is a professional manufacture of working safety gloves, with production capacity 2.5 million pairs. Our own manufacture line including Latex coating, Nitrile coating, PU coating, PVC coating, with exceptional performance on cut-resistant, heat-resistant, anti-vibration, anti-impact, and seamless nitrile disposable gloves etc.
INNOVATION
    Our R & D laboratory consider as well the role your hands play in the workplace: Durable and Sustainable; By upgrade material and advanced technology puts hand protection at the top priority in most jobs when it comes across safety, productivity and the role of protective apparel.
WHY WE ARE DIFFERENT
    Solido Safety Gloves is utterly focused on safety gloves for hand protection measures. We are confident this 'focus' will give us the ambition and ability to completely concentrate on providing you with the most comprehensive and up-to-date information on safety gloves to choose from.
With advanced research and wide range of safety gloves to meet a diverse range of handling applications – such as chemical handling, glass, gardening and lumber, etc.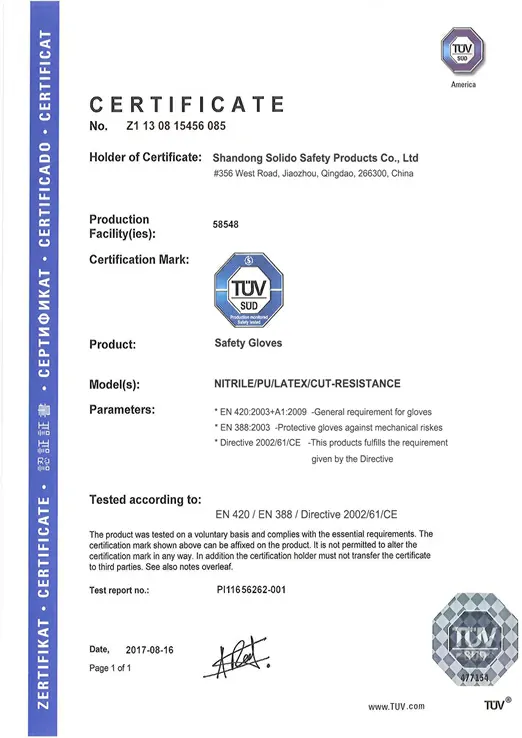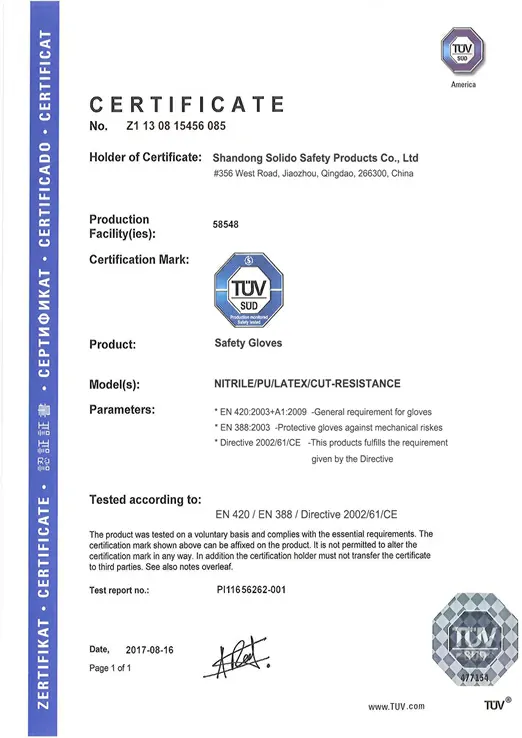 HELPING YOU MAKE THE RIGHT DECISION about-Safety Gloves
    Too many different kinds of safety gloves and industry applications, we believe clients may confusion when it comes to safety gloves selection. This is why our sales and service team of Safety Gloves Experts continue to publish informative articles and guides on our gloves, enlighten you to make a proper and right decision about how best to protect your hands.
WE HOPE YOU ENJOY SHOPPING WITH US
    Our Customer Care Team is on hand to help you with any questions you might have by 7/24.
We hope that you enjoy shopping with us and look forward to being of service to you in a long-term cooperation partnership.
You can get sample gloves by insert of chart with demanding details, our sales team will contact you with fillfull delivery.
Professional manufacture of the safety gloves with Nitrile, Latex, PU coated etc.