13G Pink Polyester with Black PU Protection Hand Gloves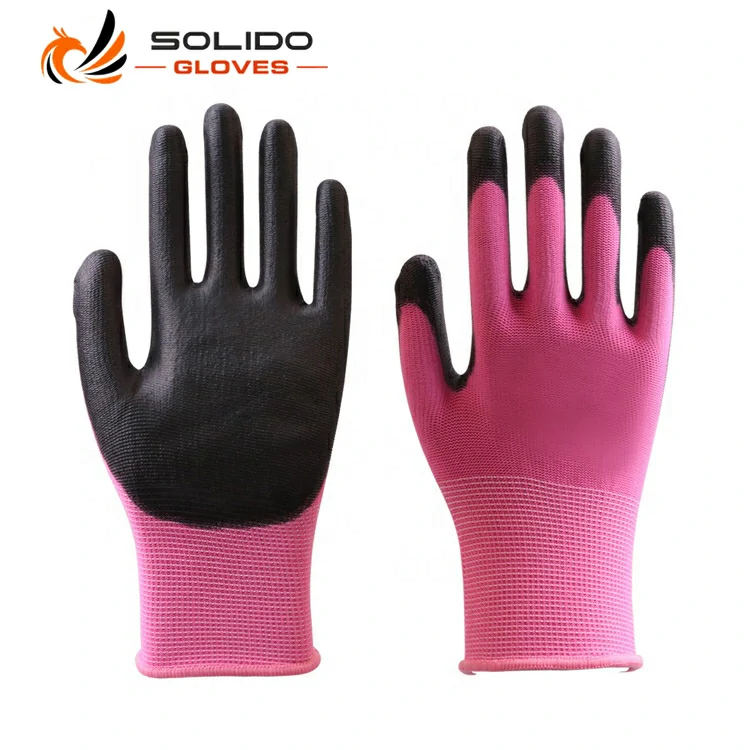 Economic, Universal, Anti-static
7/S, 8/M, 9/L, 10/XL, 11/XXL
Polyester PU hand gloves
about-Safety Gloves is a professional manufacture of working safety gloves, with production capacity 2.5 million pairs. Our own manufacture line including Latex coating, Nitrile coating, PU coating, PVC coating, with exceptional performance on cut-resistant, heat-resistant, anti-vibration, anti-impact, and seamless nitrile disposable gloves etc.
INNOVATION
    Our R & D laboratory consider as well the role your hands play in the workplace: Durable and Sustainable; By upgrade material and advanced technology puts hand protection at the top priority in most jobs when it comes across safety, productivity and the role of protective apparel.
WHY WE ARE DIFFERENT
    Solido Safety Gloves is utterly focused on safety gloves for hand protection measures. We are confident this 'focus' will give us the ambition and ability to completely concentrate on providing you with the most comprehensive and up-to-date information on safety gloves to choose from.
With advanced research and wide range of safety gloves to meet a diverse range of handling applications – such as chemical handling, glass, gardening and lumber, etc.
Polyester PU hand gloves
Silk screen or heat transfer logo on glove back.
Excellent dexterity & sensitivity for general handling.
Light-weight and sensitive, good touch; Anti-static.
Microporous structure, good elasticity
Good wear and tear resistance; 
The cuff is very elastic and easy to wear.
Electronic assembly;
Automotive assembly;
Safety inspection;
Agriculture;
Gardening;
machinery maintenance;
precision instrument assembly.
Professional manufacture of the safety gloves with Nitrile, Latex, PU coated etc.